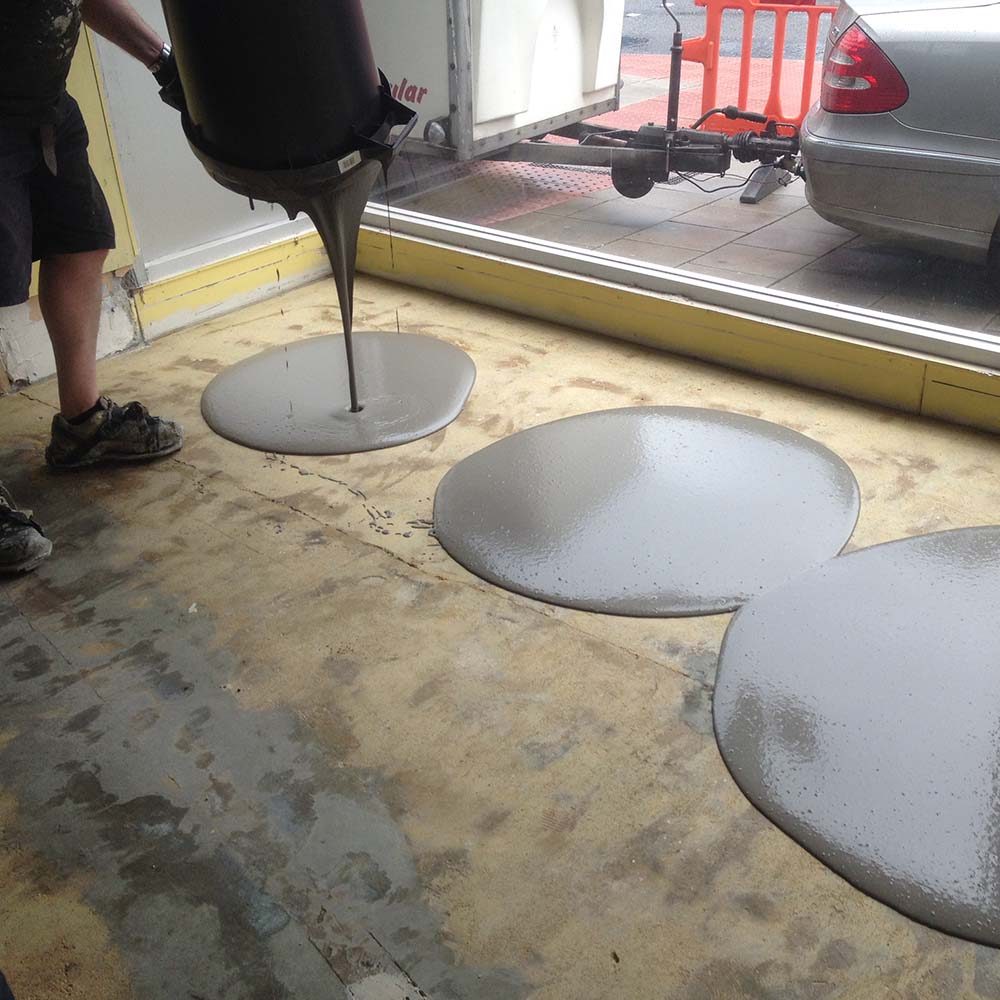 Choosing the right floor screed system might seem complex but with a little help and guidance afforded from this simple checklist, we feel you will be well on the way to making some better and more informed decisions to assist with your project.
Of course, we would welcome you to contact one of our team, who will happily establish exactly what your circumstances and requirements are and be able to answer any of your questions or concerns. We will be able to tell you exactly what product to use and the reason and justification for the said product.
However, for your initial perusal we hope you find the following information useful.
Screed Specification
There are a huge variety screeds now available, so the most important check is to make sure the screed in question is suitable for your requirements:
Strength (Normally shown as N/mm)
Minimum thickness
Maximum thickness
Pot life
Curing times
Minimum application temperatures
Maximum application temperatures
Flexural strength (where relevant)
Further helpful advice can be found in the British Standards information documents; BS8204 and BS800
Inspection of Existing Floor Structure
It is vitally important to inspect the exiting screed thoroughly prior to the application of any screed.  Please note: the suggested remedy for each point will be outlined later in this document.
Check the condition and soundness of the existing surface.
Check for any evidence of structural cracks.
Check thoroughly for any evidence of damp.
Check thoroughly for any evidence of oil contamination.
Check the levels of the floor to ascertain the high and low points.
Check for existing expansion joints and mark their exact locations prior to the layman of any screed.
Establish whether any part of the floor has underfloor heating.
Is the floor area to be screeded internal (within an enclosed building) or external (open to the elements)?
Base Preparation
Condition and soundness of the existing surface
The existing surface should be thoroughly cleaned and 'keyed' to ensure a perfect adhesion between the new screed material and the existing concrete slab.  It is vitally important to remove all loose/friable material including any existing floor paint or sealer.
Preparation can be carried out chemically with the use of an acid etching material (Polycote Etch It), or mechanically with the use of diamond floor grinders, scabblers and/or shot blasters.  It is highly advised that you use a machine connected to a dust recovery unit / industrial vacuum to ensure the entire area is not filled with dust.
Structural cracks
If your floor is suffering from structural cracking, it is highly advisable to establish why the cracking of the concrete has occurred. This could be for several reasons, a) the most common reason being not enough or indeed no expansion joints, b) expansion joints that are no longer functional due to the build-up of dirt within the joint c) the joint has been incorrectly filled in with an inert, solid (repair) material thereby preventing the screed from being able to expand or contract, d) the screed being subjected to too much weight or c) subjected to too much vibration, often caused by heavy machinery.
Obviously, there is little the user can do about the weight or movement of machinery but, if it is simply an issue with the expansion joints, this can be easily rectified by cleaning/re-cutting the joint and filling with a Polycote Jointex expansion product specifically formulated to allow for expansion and contraction.
With regard to any structural cracks, it is advised to both clean and dry out the crack as much as possible and fill with Polycote Crackfiller EP100, an ultra-low viscosity pure epoxy resin.
Rising Damp
If any rising damp has been identified, the floor must be coated with a twin pack epoxy Damp Proof Membrane (Polycote DPM Primer), to provide a totally waterproof barrier and thus prevent the rising damp from pushing up through the new floor screed.
Oil Contamination
If oil contamination has been identified, it is important that all surface contamination is removed as much as possible using Polycote Degrease IT.  Once the surface is clean, paint the floor with Polycote OT Primer in order to totally seal the surface and prevent the oil from rising up through the new screed.
 Further Note:  Re. Damp and Oil
When applying either the OT Primer or the DPM Primer prior to the installation of a screed, it is recommended that two coats are applied.  The first coat should be applied and allowed to cure, prior to a second coat being applied at right angled to the first.  Whilst the second coat is still wet, kiln dried quartz aggregate should be sprinkled on to the wet primer.  All excess aggregate may be removed the following day and prior to the installation of the self-levelling floor screed (Polycote Easi-Screed).
High and Low Points – What is best to do?
This is often an interesting consideration as to what is best to do. If you have a poorly laid concrete with a 'few' high spots that are causing an issue, it is worth contemplating whether just to grind the high spots down and not put a screed at all.  However, please bear in mind that for every 1sq.m x 1mm deep, you will be removing approximately 2kgs of concrete.  Whilst this might not sound much, now multiply the total area you have with the depth you wish to remove and multiply that by 2.  You will then know how many kilos you are going to have to move, and the skip(s) you will need to take the waste!
When allowing for the minimum thickness required for the chosen screed, make sure you allow this depth over the high spots and will then need to calculate how much material you will need in excess to fill in the lower areas, which in turn, will obviously be laid to a greater thickness.
If you are not sure how to calculate this, then please don't hesitate to call the technical helpline 01234 846400, where one of the team will be more than happy to offer help and advice.
Expansion Joints
Expansion joints are a vital part of a successful and long-lasting concrete floor.  It is therefore important that you mark out on a plan exactly where they are so that the joints can then be reinstated by cutting through the new screed once it has cured.
Alternatively, rather than going by a written plan, a mark can be made on the wall denoting the starting/finishing points. Alternatively, some people simply use 6" nails that are driven into the joint.  This method is actually very helpful, especially when you have existing slabs where the joints are not in a nice straight line, or the joints are 'dog-legged' or simply not at 90°.  This way, the whole length of joint can be easily plotted and then as soon as the screed has cured sufficiently to walk on, the nails can be pulled out and will then clearly leave holes that will show the exact path of the original expansion joint below.
Please note it is very important the cutting through of the joints is done directly over the existing joint below.
Once cut, the open joint should then be filled with one of our Jointex range of products, to both protect the edges of the joint and to prevent the build-up of dirt in the joint.
Underfloor Heating
When screeding over an underfloor heating system, no matter whether it is a wet system or electric, you should use Easi-Screed Flexible. This has been formulated to reduce the risk of cracking due the extra expansion and contraction brought on by the greater fluctuations of direct heat.
Internal / External Applications
Easi-Screed Industrial, Easi-Screed Standard and Easi-Screed Flexible are all suitable for use internally, within a building.  However, if you have an external application, where the product will be subjected to the extremes of weathering, please us Easi-Screed External.
Mixing
Due to there being many and varied self-levelling compounds we can only advise that you read and fully understand the Manufacturers Material Data Sheet, prior to the mixing and/or application of any product.  Should you have any questions or concerns, contact the manufacturer before any commencement of works.
It is important that you have the entire area prepared and primed as necessary.  Fill a suitable clean mixing vessel with the required quantity of clean water as per the material data sheet.  Add the contents of the Easi-Screed (powder/aggregate) to the water whilst mixing and folding in with the mixing paddle.  It is highly advised to use a mixing paddle connected to a suitable drill as it is important that the product is mixed evenly, thoroughly, and as quickly as possible.
Pouring and Levelling
Pour the mixed material out onto the floor and spread out with a pin leveller. The length of the pins on the Pin Leveller should be set to the thickness of screed required. As soon as the screed has been spread out, the floor should be 'spiked' with the spiked roller to pop/disperse any air that has become entrapped in the screed whilst mixing.  Please note, it is both normal and inevitable that air bubbles become entrapped in the mixture, and it is therefore very important that the screed is spiked as soon as possible after laying, whilst it is still wet. This will also help the screed itself to level out and also help each poured mix to merge perfectly with its previously laid counterpart.
Please note:  It is extremely important to maintain a wet edge so that each pour blends in perfectly with the previous pour.
Spiked shoes are also available for the user to enable them to be able to walk over the wet screed during the pouring procedure.
Curing
The benefit of installing one of the Easi-Screed range of self-levelling screed system is speed.  Its fast to mix, fast to lay and fast to cure. So much so, that one of our teams of approved installers can lay up to 2000sq.m in just one day, which can then be traversed by vehicular traffic the very next day! Furthermore, Easi-Screed provides a high wear, smooth and dust free surface and can be laid as thin as 2mm.
Screed Protection
Ensure the new screed is protected during the curing process.  The temperature should not be allowed to drop below 10°C, space heaters are advised in the colder months.  Protect from foot traffic for a minimum of 3 hours and from pallet trucks and forklifts for 24 hours. Consult the manufacturer's Material Data Sheet for specific requirements or ring our technical helpline for further advice.
Sealing the Surface
If the floor is likely to be subjected to liquids or if you would like to paint it for aesthetic reasons, it is highly advised to complete this exercise as soon as possible after laying and before any 'major' use.  It is far better to complete a coating before the screed has been able to absorb impurities into itself, whether it be oil or chemical spillages, from general dirt to rubber tyre marks.
For a clear sealer, Polycote Flortex PU is an excellent single pack polyurethane floor sealer.
Should you wish to achieve a colour, 2 coats of a twin pack water dispersed epoxy resin (Polycote Flortex SG) is one that can be applied after just 24 hours.
Finally, if you are looking for the best, then one coat of Polycote WD Primer followed by one coat of Polycote Flortex Professional, will give you the longest lasting high build coating, that is resistant to both chemical and heavy traffic.
Related articles
Polycote UK would like to take the opportunity to thank you for taking an interest in these product and application articles and hope they have been some help to you.
We would of course be pleased to answer any specific questions should you wish to contact us directly on 01234 846400 or email: [email protected]