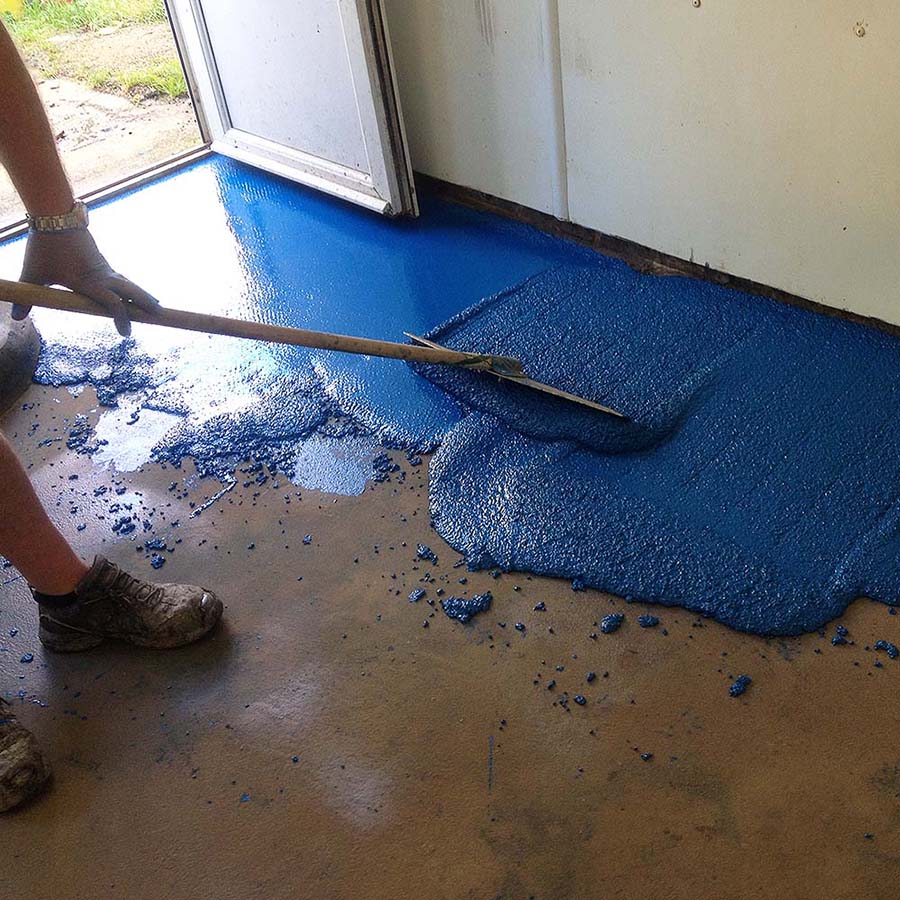 Polycote Easi-Screed Flexible has proven to be the No. 1 choice for property owners, architects, and construction companies alike, due to its high thermal conductivity from the underfloor heating pipes, which has been shown to be around five times more effective than traditional screeds.
Professionally formulated with self-compacting properties, the liquid screed completely covers the underfloor heating pipework, eliminating air voids to ensure optimal heat transfer. It can be installed at much thinner depths compared to traditional sand and cement, providing ultimate control of the underfloor heating system. Energy usage and costs are greatly decreased when over-screeded with Easi-Screed Flexible, due to the system's increased efficiency.
Easi-Screed Flexible has incredibly high strength and durability (with a compressive strength of 35N/mm²) together with low shrink characteristics. This allows the screed to be installed at far less thickness than traditional screeds, requiring a minimum of only 20mm cover to underfloor heating pipework. This therefore ensures far better heating performance, and faster heat transfer.  It is perfect for use with ground source and air source heat pumps, allowing lower flow temperatures, reduced energy consumption, CO2 emissions, and heating costs, as well as quick heating and cooling for greater system control.
The thermal conductivity of typical building materials can be measured according to standards such as BS EN 12664, BS EN 12667, and BS EN 12939. In comparison to electric-based systems, hydronic systems containing water and antifreeze offer both heating and cooling operations. Being a highly conductive thermally, this self-compacting anhydrite screed provides improvements over conventional screed or slab construction systems by reducing reaction time and enhancing thermal energy transfer.
Depending upon the method of construction, the thermal conductivity of the Easi-Screed system has been measured at between 2.2W/mK, and 2.9W/mK, therefore making it extremely responsive to underfloor heating. The lower thickness of the screed and high thermal conductivity, contribute to improved performance and substantially reduced response time for the entire system.
Easi-Screed Flexible has also been professionally formulated to be compatible for use with almost any underfloor heating system, including both conventional and renewable technologies. The strength, durability, and low shrink characteristics of the screed enables reduced depths without compromising performance and is suitable for most modern construction methods and substrates, subject to suitable engineering. The flowing and self-compacting nature of Easi-Screed Flexible, combined with its unique minimum depth capabilities, have enabled significant gains in placement time. Our contractors are now able to install up to an incredible 2000m² in just one working day. Compared with the limitations of traditional sand cement screeds, this is a massive saving in labour costs and downtime.
Furthermore, whilst on the subject of cost savings and speed, Polycote Easi-Screed allows for faster installation of final floor coverings as opposed to calcium sulfate screeds, which require a final moisture content of 0.5%, potentially delaying floor finishing by months. Easi-Screed can be tiled at a final moisture content of 5% and timber floors can be installed at a final moisture content of 2.8%, thereby expediting the entire build process with far less installation and curing times.
The complete range of Polycote Easi-Screed products are suitable for almost any type of floor covering, from tiles, terrazzo, wood, epoxy and polyurethane coatings and screeds, carpets, and vinyl flooring…, to name but a few!
Finally, Polycote Easi-Screed offers huge environmental benefits, by using far less of earth's natural resources due to thinner application depths over against those required by conventional screeds. A win-win solution.
Related articles
Polycote UK would like to take the opportunity to thank you for taking an interest in these product and application articles and hope they have been some help to you.
We would of course be pleased to answer any specific questions should you wish to contact us directly on 01234 846400 or email: [email protected]