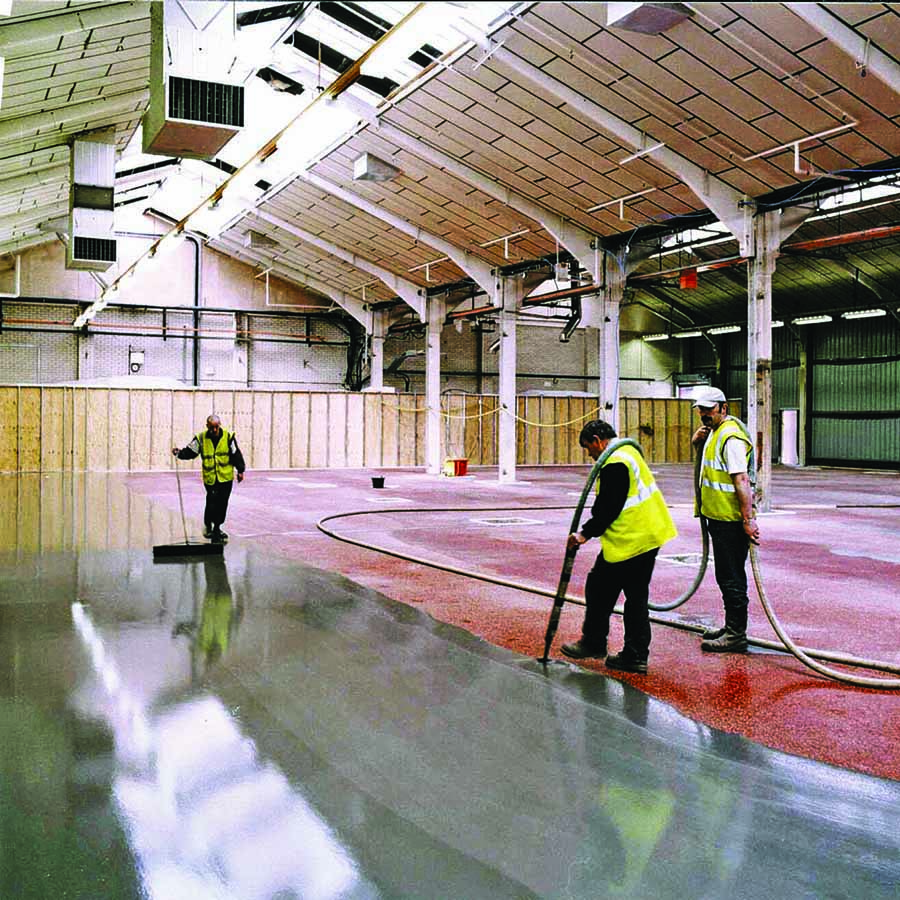 Traditional screeds made by mixing sand and sharp sand by hand or cement mixer are rapidly becoming a 'thing' of the past.  They are perfect for new construction where time is not of the essence and where budgets are tight.  However, as soon as downtime becomes an issue, traditional screeds are simply no longer the answer.  Agreed, the liquid screed material is considerably more expensive than its traditional sand/cement 'cousin', but as soon as downtime is considered, the extra material cost pales into insignificance.
Easi-Screed is manufactured in various formulations to cover virtually all eventualities.  With fast curing formulations for areas of restricted downtime, a flexible formulation for the successful covering of underfloor heating, together with an external grade self-levelling version with the ability to withstand the extremes of weathering the Polycote Easi-Screed system has become synonymous with fast and easy!
Why choose a liquid screed instead of a traditional sand and cement screed?
Speed 
The Polycote Easi-Screed system is now widely recognised as one of the best alternatives to traditional sand and cement screeds. Being able to lay up to 2000m² in a single day together with its speed of cure allowing pedestrian traffic after only 4 hours and vehicular traffic after on 24 hours, makes Easi-Screed one of the fastest and easiest self-levelling cementitious screeds of all time.
Strength
When using traditional concrete or sand/cement screeds, there is an industry standard code, normally between M10 and M55, denoting the average compressive strength for each code, as shown below.
| | | |
| --- | --- | --- |
| Traditional Concrete Codes | Compressive Strengths (N/mm2) | Usage |
| M10 | 10 N/mm² | Foundations, Light domestic. |
| M15 | 15 N/mm² | Foundations, Light domestic. |
| M20 | 20 N/mm² | Foundations, Light domestic. |
| M25 | 25 N/mm² | Foundations, Light domestic. |
| M30 | 30 N/mm² | Domestic / light industrial flooring |
| M35 | 35 N/mm² | Domestic / light industrial flooring |
| M40 | 40 N/mm² | Heavy duty industrial flooring installations |
| M45 | 45 N/mm² | Heavy duty industrial flooring installations |
| M50 | 50 N/mm² | Heavy duty industrial flooring installations |
| M55 | 55 N/mm² | Heavy duty industrial flooring installations |
The generally recognised period of time for traditional sand/cement screeds
to achieve the above-mentioned compressive strengths is approximately
1 month, per inch thickness of screed laid. This of course would also be
dependent upon the level of humidity and the average temperature range.
Polycote Easi-Screed is available if four different versions, and their respective strengths/curing times. You will note they all reach high strengths far quicker the traditional screeds, thereby ensuring a far quicker return to work.
| | | | | |
| --- | --- | --- | --- | --- |
| Product Name | Easi-Screed Industrial | Easi-Screed Standard | Easi-Screed Flexible | Easi-Screed External |
| Applied By | Trowel or Pump | Trowel or Pump | Trowel or Pump | Trowel or Pump |
| Compressive Strength | 40N/mm² | 36N/mm² | 34N/mm² | 36N/mm² |
| Pot Life @ 20°C | 25 mins @ 20°C | 20 – 30 mins @ 20°C | 20 – 30 mins @ 20°C | 15 mins @ 20°C |
| App. Temperature | 10°C – 20°C | 5°C – 25°C | 5°C – 25°C | 5°C – 20°C |
| App. Thickness | 5 – 50mm per layer | 2-20mm per layer | 2 – 50mm per layer | 5 – 15mm per layer |
| Initial Cure @ 20°C | 2-3 hours | 2 – 3 hours | 2 – 3 hours | 6 hours |
| Overcoat Time | 24 hours | 24 hours | 24 hours | 24-48 hours |
Minimum Thickness
There are in fact several reasons why a liquid pumped screed is far quicker and ultimately less expensive.  In addition to the speed of installation, traditional screeds require a minimum thickness far exceeding that of a liquid screed.  An absolute minimum of 50mm is recommended for a traditional screed and this often increases to 100mm or even 150mm, depending upon the thickness/state of the existing floor, as well as the amount of weight/traffic the new screed has to withstand.  Polycote Easi-Screed can be laid as thin as 2mm and for even the most heavily used areas, Easi-Screed Industrial can be laid at only 7mm.  Not only does this mean far less material required but also means that the existing floor height barely changes, which in turn has little effect on door or ceiling heights.
Furthermore, if only parts of a total floor area require a new surface, a raise in the floor area is, in 99% of cases, completely impractical. Conversely, Easi-Screed will produce a new surface with the transition for the original levels to the 'new' level being almost imperceptible.
Dust & Wearability 
Traditional screeds will nearly always result in the dissipation of dust, caused by the fine particles within the screed delaminating.  As these particles delaminate, the loose material almost acts as a grinding layer that exponentially exacerbates the problem.  All Polycote Easi-Screeds are non-dusting and therefore eliminate the huge ongoing issues caused by dust, whether it be general cleaning to damage to stock, machinery, and air conditioning systems.  As far as wearability is concerned, liquid screeds far exceed traditional screeds as they are far more resistant to heavy wear and tear.
Flexibility
Easi-Screed Flexible has been formulated to withstand pressures due to movement, vibration or where underfloor heating is used. The fibre reinforced, protein free design is highly flexible, yet still cures to 34N/mm².
Smoothness
The smoothness of the final finish of a liquid screed far exceeds that of a traditional screed.  This means that the final floor finishes such a carpet, tiles, wood flooring, etc are far easier to lay and in turn ensure a far better overall finish. And talking of the over-laying of the screed with tiles, carpeting, etc, the curing period of a traditional screed often requires an absolute minimum of 3 days before any such over-laying can be achieved.  When considering paint and depending upon the age of the advisor' the standard advice give is 'one month per inch' (thickness of screed) or '1mm per day'.  With any of our Easi-Screed liquid screeds, these can be painted, tiled, covered after only 24 hours!
In summary
The benefits of a liquid screed system such as Polycote Easi-Screed are as follows:
Speed of installation – up to 2000m² in one day
For small to medium sized floors up to 3-400m², Easi-Screed can be quickly and easily mixed on site using a mixing paddle fitted to a standard hand drill. For larger industrial applications, the material can be mixed in much larger quantities and then pumped onto the floor via a large hose.
Can be laid as thin as 2mm.
Non-dusting
Smoother and more level surface. Indeed, Easi-Screed can be laid to a laser-level finish.
Cures and ready for trafficking after only 4 hours (pedestrian) or 24 hours (vehicular)
Cures and ready for over-laying of final floor finishes after only 24 hours.
Much quicker and easier to clean, thereby reducing cleaning times and costs.
Almost Imperceptible raising of existing floor heights.
Reduces the need for removing existing floor slabs thereby reducing waste disposal costs
Reduces noise, dust and inconvenience as well as
Related articles
Checklist For Self Levelling Floor Screed
Thank You
Polycote UK would like to take the opportunity to thank you for taking an interest in these product and application articles and hope they have been some help to you.
We would of course be pleased to answer any specific questions should you wish to contact us directly on 01234 846400 or email: [email protected]